What if I could afford to shop at Anthropologie... well really it's not that I couldn't afford to shop there, but do I really want to spend $150 big ones on one skirt. False. We all spend our money on what we want to spend it on. It drives me crazy, when someone says I can't afford to do that or buy that and then the next day they are buying or doing something equally as expensive. Hey, I thought you said you couldn't afford it? I'm sure I've done this in the past myself. I try not to do it too often though.
Anyways, for our little game of what if I wanted to spend all my money at Anthropologie. I would be living on the street, but oh boy would I look fabulous!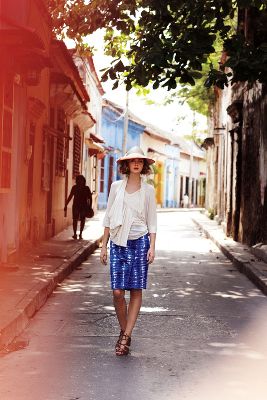 I love the shoes, don't you? Also, can I just be transported to Columbia... right now!

Not only am I loving the outfits put together in their new lookbook, but the setting they are perfectly captured in is to die for. Those perfectly raw, rundown walls. Swoon! It reminds me of the hotel in the beginning of Mr. and Mrs. Smith. Forget Angelina Jolie and Brad Pitt, that hotel was the most amazing magical place ever. Too bad there isn't a category on the travel sites for perfectly rundown. I would be all over that. Rundown, but clean. I've had to deal with my fair share of roaches on travels and they are not my friends. So I couldn't find a picture of that hotel in the movie, but how could you forget it.